›
The British Motorcycle Story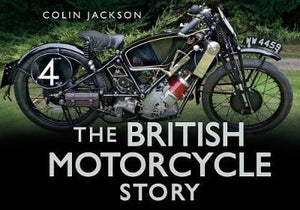 Today, we are familiar with the motorcycle in many forms; it ranges from the low-powered pizza delivery moped, to scooters, small commuter bikes, powerful sports machines and tourers, all the way to MotoGP racers. 
In the modern era, mass-produced motorcycles tend to be Japanese, with the 'big four' manufacturers - Honda, Suzuki, Yamaha and Kawasaki - dominating the market. However, it wasn't always so. Until the 1950s, and even into the 1960s, British makers and designers ruled the roost, with names such as Scott, Rudge, BSA, Norton, Vincent and the mighty Triumph leading the way. In this book, enthusiast Colin Jackson tells the story of these incredible machines and the men who rode them, charting the 'golden age' of British motorcycles from its earliest beginnings as little more than a bicycle with a tiny engine, to the fast, powerful machines we recognise today.
Author: Colin Jackson
Hardback: 128 pages
Publisher: The History Press
ISBN: 9780752487359
Product Dimensions: (H) 130mm, (W) 190mm, (D) 10mm

Do you have a question about this product? Please Contact us.