›
Back to the Future 2 DeLorean 1:24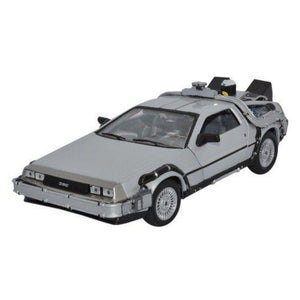 This collector grade model is a fantastic replica of this iconic car. Back to the Future starred Michael J. Fox. In the second part of the trilogy after repairing the damage to history by making his parents fall in love in 1955, Marty McFly returns to 1985. While there, his friend Dr. Emmett Brown has him travel to 2015 to prevent his future son from getting involved with Biff Tannen's grandson, Griff. However, Biff travels to 1955 and completely alters history.

Brand: Welly

Scale: 1:24
Product Code: 22441W
Age Recommendation: 8 years and up
Display Size: W23 x H11 x D10.5cm

Do you have a question about this product? Please Contact us.