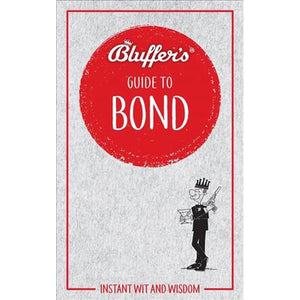 Never again confuse SMERSH with SPECTRE, Oddjob with Onatopp, or Plenty O Toole with Pussy Galore. Bask in the admiration of your fellow James Bond aficionados, pronounce confidently on the finer points of the books, films and the character of the man himself, and hold your own against the most dismissive of doubters. DO SAY Holly Goodhead is arguably the most suggestively named of all the Bond girls. DON'T SAY The similarities between scar-faced, Nehru-suit-wearing, cat-stroking Dr Evil in Austin Powers, and Donald Pleasence's portrayal of Blofeld are purely coincidental. The Bluffer's® Guides: the 5-million-copy bestselling book series. These short, humorous guides contain all the facts you need to become an instant expert.
Author: Mark Mason
Paperback: 128 pages
Publisher: Haynes Publishing
ISBN: 9781909365049
Product Dimensions: H17.8 x W11 x  D10cm
Do you have a question about this product? Please Contact us.