›
Back to the Future Delorean Time Machine Manual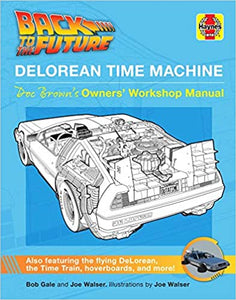 Discover the secrets of Doc Brown's time-traveling DeLorean with the first-ever under-the-hood user's manual featuring never-before-seen schematics and cutaways of cinema's most iconic car.
One of the best-loved movie sagas of all time, the Back to the Future trilogy has left an indelible impact on popular culture. 
Back to the Future: DeLorean Time Machine: Owner's Workshop Manual
 delves into the secrets of the unique vehicle that transports Marty McFly and Doc Brown through time, including both the original version of the car and the updated flying model. From the DeLorean's unmistakable gull-wing doors to Doc's cutting-edge modifications, including the Flux Capacitor and Mr. Fusion, this manual offers unprecedented insight into the car's inner workings. Filled with exclusive illustrations and never-before-disclosed information, 
Back to the Future: DeLorean Time Machine: Owner's Workshop Manual
 is the perfect gift for the trilogy's legion of fans.
The author, Bob Gale is an Oscar-nominated screenwriter-producer-director best known as cocreator, cowriter, and coproducer of Back to the Future and its sequels. Gale was born and raised in St. Louis, Missouri, and graduated Phi Beta Kappa with a B.A. in Cinema from the University of Southern California in 1973. He has written over thirty screenplays, and his other film credits include 1941, I Wanna Hold Your Hand, Used Cars, Trespass, and Interstate 60. In addition to writing movies, Gale has written comic books including Spider-Man, Batman, and IDW's Back to the Future title, and has also served as an expert witness in over twenty-five plagiarism cases. Gale lives in Southern California with his wife and dog.

Joe Walser combined decades of motion picture art department experience with his passion for Back to the Future to become the world's leading authority on the DeLorean time machine. In 2013, he led Universal Studios' official restoration of the actual time machine vehicle used in all three Back to the Future movies, which is now on permanent display at the renowned Petersen Automotive Museum in Los Angeles. Walser has been directly involved in dozens of licensed Back to the Future products and projects, and has cocreated the world's largest Back to the Future fan celebrations, including the thirtieth anniversary We're Going Back event in 2015. He lives with his wife, daughter, and three sons in Los Angeles, California.
Author: Bob Gale and Joe Walser
Hardback: 160 pages
Publisher: Haynes Publishing
ISBN: 9781683836216
Product Dimensions: (H) 270mm, (W) 210mm