›
Triumph TR5 Signal Red 1:43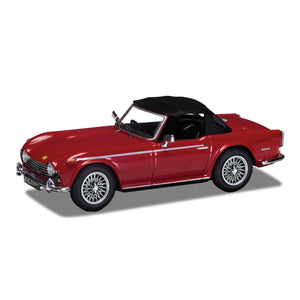 Modeled on a specific TR5, This 1:43 scale metal diecast model of the classic Triumph TR5 is just like the real thing and accurate down to the last detail. This model arrives in a clear plastic display box. 
The TR5 modelled was built on Thursday September 12th, 1968 (exactly a week before the last TR5 left the production line), and despatched to Lankesters Limited, Kingston-on-Thames on the 26th. It™s believed that the second owner, in around 1969, was a Guildford-based David Jacobs who may, or may not, have been the famous DJ and TV presenter¦  Ray Gill, of specialists TR Improvements™, sold it to Dorset-based TR enthusiast Tim Toogood in summer 1979. He used it for his honeymoon and wife Sam christened the car Waste Paper Basket™ because of its WPB number plate. The Toogoods sold it in late 1987 by which time it had covered over 80,000 miles and needed restoration.
In 1989 it was purchased by London-based Christopher Lillingston-Price who stripped and partially restored the car but was unable to finish it. In July 2011, Nottinghamshire-based enthusiast Conrad Hunt bought it and finished the restoration to a very high standard. It was returned to the road in 2014 and featured on the front cover of Practical Classics magazine in August 2017, where it starred in a feature celebrating the 50th anniversary of the TR5 which compared it with two period rivals, the MGC and Austin Healey 3000. Somerset-based enthusiast Huw Boyce purchased it in July 2018, achieving a lifetime™s ambition in the process as he™d wanted a TR5 since owning a Spitfire in his youth. He is an enthusiastic member of the TR Register.   
Please note, the image shown is a artists impression of the model so there may be some small differences. 

Brand: Corgi, Vanguards
Scale: 1:43
Age Recommendation: 14 years and up
Car Size: W10 x H4 x D3.7cm
Display Size: W15 x H7 x D7.2 cm
Do you have a question about this product? Please Contact us.