›
Street Fire Hauler Toyo Tires 1:43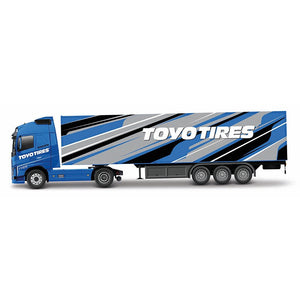 Highly detailed model of a Volvo FH16 Globetrotter truck cab. This 1:43 scale replica is packed with features that are just as you would find them on the original vehicle. The exterior has every curve and angle recreated in impeccable detail and finished with a high quality electrostatic paint coating. Also included with the set is a trailer that features Toyotires livery.
Brand: Bburago Street Fire
Scale: 1:43
Product Code: B18-31461T
Age Recommendation: 3 years and up
Display Size: W45 x H13.5 x D9.5cm
Do you have a question about this product? Please Contact us.