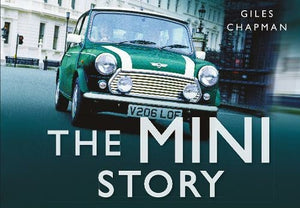 Very few cars inspire as much affection as the original Mini. It's the small car everyone loves to eulogise because it oozes energetic fun, classless minimalism and evergreen style. But it's also of massive historical importance: the 1959 Mini, designed by Alec Issigonis, set the template from which all successful compact cars have been created ever since. It was the technological wonder of its age. The original Mini was on sale for 41 years, during which its 5.3m sales made it the best-selling British car of all time - an achievement unlikely ever to be beaten. And just when it looked like the little car would shrivel and die, BMW had the vision to reinvent it as the planet's most desirable small car range, and put it back on the serious motoring map as the MINI. Here, award-winning writer Giles Chapman tells the whole, amazing story.

Author: Giles Chapman
Hardback: 128 pages
Publisher: The History Press
ISBN: 9780752462820
Product Dimensions: (H) 130mm, (W) 190mm, (D) 10mm

Do you have a question about this product? Please Contact us.