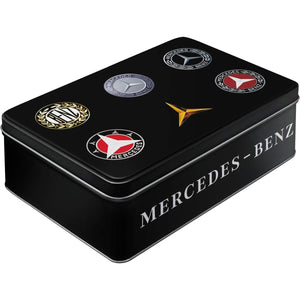 This tin box is the perfect home for your cherished small items. Keep your keys, jewellery, mementos, and keepsakes safe and organized. Its compact size and spacious interior make it versatile enough to hold all your treasures.
Our Mercedes-Benz Tin Box pays homage to the iconic luxury car manufacturer, featuring the renowned Mercedes-Benz emblems throughout time and a design that echoes the brand's commitment to excellence. It's the perfect storage solution for those who appreciate the finer things in life.
Official licensed merchandise
Material: Made from sturdy steel sheet, food safe
Size: 2.5L, 23 x 16 x 7 cm
Made in Germany
Not suitable for the dishwasher
Do you have a question about this product? Please Contact us.