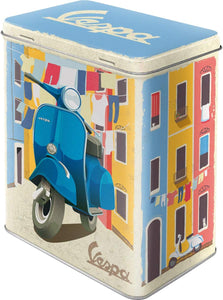 Step into a world of timeless style and practicality with the Vespa Tin Box. Designed for the Vespa enthusiast, this vintage-inspired container adds a touch of retro class to your storage needs. Details throughout the tin have been embossed 
This high-quality storage tin is the perfect addition to any house or garage. Safe for food use, this tin would be a great storage container for coffee, tea and biscuit lovers.
Material: Metal, food safe
Size: 3L, H19.5 x W14.5 x D10.5 cm
Made in Germany
Not suitable for use in the dishwasher. 
Do you have a question about this product? Please Contact us.